Your Online Destination for Authentic Georgian Wines
---
Why Georgian wines?
Georgia has over 500 native grape varieties that grow nowhere else in the world.
Georgia is the birthplace of wine, as the researchers traced the world's first known wine creation back to 6,000 BC.
Georgian winemakers keep the grape skins in contact with the juice for days or even months, depending on the region.
Georgian traditional winemaking technology is unique globally, for it is based on the use of the Qvevri - large terracotta pots.
Ancient. Authentic. Natural.
---
Behind Georgia's 8,000-Year-Old Winemaking Tradition
---
STORIES
---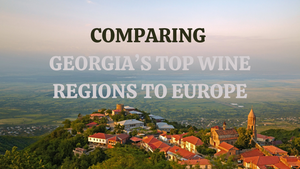 When we talk about Georgian wine, diversity is the word that immediately comes to mind. This small country has an incredible range of wine styles thanks to its diverse natural...
As in every part of the world, Christmas is a special celebration in Georgia. It's a special day when families gather and homes are occupied by delicious Christmas flavours. 
The Georgian harvest is probably the noisiest and the busiest time for the cellar; when winemakers pray for sunny weather, each workday starts at 6:30 AM, team members become superheroes,...